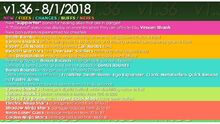 Version 1.36 is an update for Survive The Disasters 2. It released in August 2, 2018.
Changelog
Fixed a bug where Death Bomb's chance could be rolled twice when bloxxing an enemy using Doom's Touch.
Fixed a bug where Venom-Shank effect can be stacked, causing the enemy to be permanently green.
Buffed Venom-Shank's poison chance from 1/10 to 1/4.
Buffed Venom-Shank damage by a bit.
Venom-Shank now hits twice as fast.
A "Poisoned!" status now display on enemies when they are affected by Venom-Shank.
New "Time Ban" system for cheaters.
Resetting or dying in Bonus Rounds no longer opts you out of round, making you capable of still bloxxing enemies and not having a red portrait.
Survivals and Total Rounds played are not added in Bonus rounds.
Hyper Coil Noobs spawning normal Coil Noobs fixed.
Bonus Rounds no longer occur in Mystery Disaster.
Icicles ,Fire Breath and Hyper Black Mage buffed.
Orb balances (Frostbite,Death Bomb, Ego Expander, Cloak, Metabolism).
New "Supporter" bonus for healing allies.
Intermission time shortened to 60 seconds from previous 75.
Redcliff Warriors and Overseer Soldiers attacking even whey they died fixed.
Fixed Ringsplosion Orbs making very loud ring loss sound effect.
Ranged weapons damage nerfs:
Community content is available under
CC-BY-SA
unless otherwise noted.