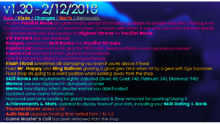 Version 1.30 is an update for Survive The Disasters 2. It was originally planned to be released on February 12, 2018, but it was instead released the following day on February 13, 2018.
Additions
A Global Leaderboard for Highest Streak in Pacifist mode.
Badges for skill ranks, including survival streaks in Pacifist mode.
Achievements & Stats updated to show more information.
Support for VIP Servers.
A new common boss theme song.
Fusion Coil is now an S-Rank gear (available to normal players); no changes were made to how the Fusion Coil gamepass works.

Fusion Coil can be purchased for 2400 coins.
Fusion Coil now has its third upgrade slot available.
Changes, Fixes and Buffs
Memos are displayed in alphabetical order.
Memos now display which Disaster Memos you didn't collect.
Some memo descriptions were updated.
Fixed Flash Flood sometimes damaging you when you're above it.
Nerfed Thunderstorm.
Fixed Shop GUIs moving to odd positions when leaving the Shop.
Removed cool-down when opening Global Leaderboard, as usernames load faster.
Auto Heal upgrade healing time nerfed from 1 to 1.5 seconds.
Fixed Mr. Happy and Ring Balloon showing a grey box when attacked with a gear equipped with an Ego Expander orb.
Skill rank requirements adjusted.
Achievements and Stats updated to display more stats, including skill rating and ranks.
Disasters award balances.
Fixed Raining Tacos' mesh.
Removed forgotten leaderboard timer for Pacifist Mode.
Removals
Community content is available under
CC-BY-SA
unless otherwise noted.